I am posting this blog for The Crazy Life Of A Writing Mom's The Golden Sky blogfest. I am excited to take part in this blogfest as I've gotten to know EH through her posts. They are both funny and entertaining and I truly enjoy her outlook. When I learned that she was hosting a blogfest in honor of her book release, about the death of her young son, I couldn't help but join in. Her son, Zeke would have been nine years old today. Through bits and pieces that I've read on her site, as well as reviews, it looks to be a very inspiring book. I look forward to reading it.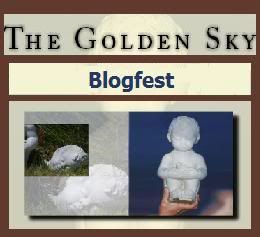 I have been blessed in life, thus far, when it comes to the topic of losing a loved one. I have yet to lose anyone truly close to me. I have watched three grandparents pass through out my childhood and young adult years but it was somewhat expected or in my grandfather's case, when I was two or three, unclear to me what exactly was going on.
I was never very close with my grandparents, they were not very healthy, and when they passed I grieved more for my mother than I truly did for myself. It's not that I didn't love my grandparents but it just didn't hit me the same way it would have perhaps if it had been my own father or mother passing.
I can say though that I have occasionally grieved for the fact that I never met one of my grandparents. I will never know my father's mother, what she looked like, sounded like, what she liked to do. I only have a few pictures and a random story or two to base her off of. And even through I've never met her she is just as much a part of my life as any other family member. If there was never a her, there would never have been me... and so on.
I think what makes me sad in my mind when I think of her is that I often consider that maybe I was like her. I am very much like my father, perhaps he was like her too. I think I also morn for my father when I think of her because I can't imagine being a young college student and losing your mother. You expect your parents to see you start a career and nurture your own family. I was not the closest with my parents growing up but if the security of my parents was taken away from me I would have struggled to carry on, like a house that loses it's foundation, I would surly topple over.
I have also been by the side of a friend or two who have lost someone very close, a boyfriend or a parent. I just couldn't grasp it but hoped that I was bringing them some comfort as I sat by their side and listened.
There is a lesson here for me though. To value each day because life is unpredictable, it throws us a lot of bumps and curves, each moment is precious.